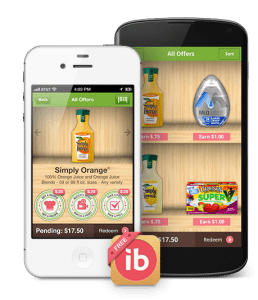 Do you have a smart phone? Then using coupons just got easier!
Ibotta
is a shopping and cashback app that you can upload to your iphone or android phone. After you have signed up, Ibotta will show you coupons directly on your phone. No need to print, just buy the items you wish, then redeem the coupons by scanning the receipt with your phone. Ibotta deposits the money from the coupons you redeem in your paypal account. To use and redeem iBotta coupons go to
Ibotta and sign up for an account
.
Here's How the Ibotta App Works:
1. Before shopping, choose the offers you are interested in. (If you are disorganized, you can also do this in the store while you are shopping).
2. Go Shopping. Buy your chosen products at any of the major retailers that Ibotta supports.
3. Take a photo of your receipt. Use your phone to scan the UPC of the items you are claiming.
4. Then Ibotta will verify your purchases and credit your account right away.
4. Get your cash. Once your account has $5.00, you can transfer it to your PayPal account or donate it to any school in America.
More Ibotta Awesomeness: Because of the way Ibotta works, you can use Ibotta coupons with other coupons. Use your regular printable, manufacture, store coupons at the time of purchase and then submit your receipt to Ibotta to receive credit for their coupons as well.
$2 Newbie Bonus for Ibotta:
All new users who sign up for Ibotta can earn $2.00 if they redeem 2 offers within the first 2 weeks of registering for Ibotta. I don't know how long this offer will be available, so I recommend
signing up now
and start using your Ibotta Cashback app to help you save money!
New Bonus Offers from Ibotta:
In addition to the "coupons" we have come to love, Ibotta has started offering Bonus Offers. These bonuses are on top of the cahsback offers you receive on particular products. Here are some of the current bonus offers:
$.50 April Showers – Redeem any 4 offers by the end of April and earn an extra $.50.
$1.00 Steady Eddy – Redeem at least 1 offer each week for 4 weeks in a row. The Bonus clock startson Monday of every week. Remember not to miss a week or the clock restarts all over again!
$1 Coke-Walmart April Challenge - Redeem all 4 Walmart Store Extras by the end of April and earn $1.00 Extra.
Currently, the Ibotta app works in over 40 stores including:
Target
Walmart
Walgreens
CVS Pharmacy
RiteAid
Safeway
Smith's
Publix
Ralph's
Fred Meyer
Winco
and many more!